Can you convert in person shopping habits into digital shopping habits?
It is a question of habit which we will explain but only once we explore how this problem arose for the brands being sold in the first place.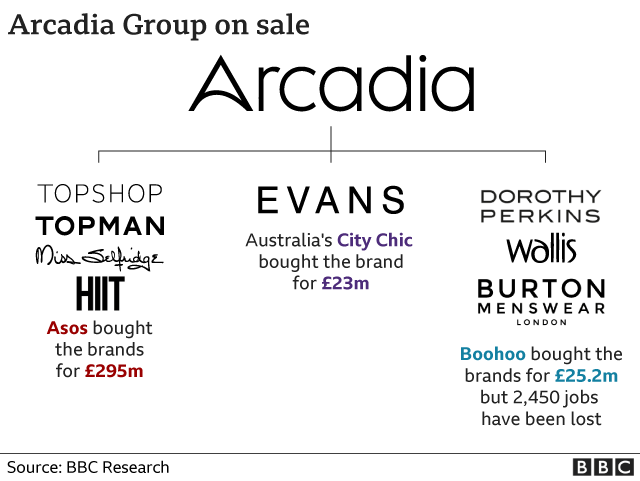 The problem with Dorothy Perkins, Top Shop, Wallis, Miss Selfridge or Evans and Burtons is that they relied too heavily on instore purchase.
Whilst that is not great during Covid-19, in any way, the problem is much deeper in that they never adapted to the digital economy and understood that digital traffic converts people in real life.
This is a common challenge for brands, they silo their business to be digital vs retail vs advertising vs mass media. Then they compound the issue with silo KPIs and targets to deliver revenue and profit but this actually costs business revenue and profit; The silo haiku if you like and the reason it costs sales and profit is because no division is an absolute. Lots of people check out things online, like a browsing hitlist and then go in store to try things on to consider and buy.
Digital is not an absolute. This idea that everyone will move to be 100% ecommerce is a fallacy, one that is compounded by a never ending pandemic cycle. Whilst it can succeed, it depends on the model in play.
Stack them high, sell them low
The massively disruptive and clever thing that Boohoo co-Founder Mahmud Kamani did was to flip the production model. That model used to be a supplier creating 10,000 of a garment, however Mahmud changed it to have them produce 500 of a garment with 20 different types of product. The supplier still received orders of 10,000 but with more variety.
That's the absolute genius of Fast Fashion, it flipped the debate and gave the targeted consumer a lot more range and a more frequent refreshing of stock and thus more content, more engagement and more offers.
Great model, does it adapt though?
What is a shopping habit?
When it comes to Topman, Topshop, Hiit and Miss Selfridge, what is the scale and type of shopper and does it match an ASOS profile customer?
Yes, all four do. They tend to be a younger demographic or lower socioeconomic work clothes shopper. Convincing people to shop at ASOS as well as those four brands has a similar decision-making sway to it.
And Boohoo? Same questions relative to Dorothy Perkins, Wallis, and Burton.
This becomes far more challenging as the age demographic is less digital of mind and habit via an older audience.
It's harder to convince and convert someone who has more of a tendency to do all of their shopping in person. Boohoo has a challenge here, whereas flipping someone from ASOS to include Topshop is just a change of perception.
The emotional context of a bargain is replaced with more of a qualitative check when we shop online. This is because we can't try things on and many of us consumers dislike ordering and sending back OR (and this is major) we only shop for high value items if we can't try them on, neither fits the profile of the Boohoo acquisitions.
I was running some data engineering today on one of the largest retailers as they are branching out into a new product category and this issue of shopping habit, budget, experience and socioeconomic status came up again, as it often does. I'm shifting them from every location to the most relevant locations (using real world location understanding to inform retail AND digital experience).
If you don't account for shopping habits you miss the challenge of how hard it is to convert people to your proposed new way. If your brand equity is low (like Dorothy Perkins) then it's harder to convince a younger audience and you lose the consumer Halo effect.
It's an interesting time for the UK consumer market and I'm excited to see which way the pendulum swings. I spend a lot of time on digital conversions but I'm a strong believer in the connected dots of experience and combining the 2D digital world with the 3D real life world we all live, love, feel and ultimately prefer to shop within.